NEWSROOM
COMMUNITIES
FUN & GAMES
LIBRARY
SITE INFO
OFFSITE LINKS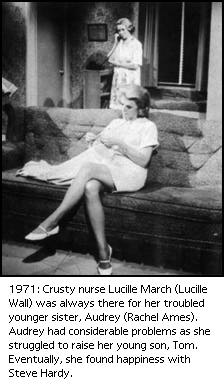 When Audrey returned to General Hospital, she told everyone that the baby had died in order to keep Tom from invalidating their divorce. After Audrey and Steve decided to remarry, Audrey had to keep spinning a bigger web of deceit, hurting their relationship. The remarriage between Steve and Audrey never took place, because Tom did find out about his son, whom Audrey secretly hid at home, and Audrey had to return to him to keep her child. But of course a loveless marriage can't work, so Tom, threatened himself this time with the loss of his son in a divorce action, kidnapped young Tommy with the help of adult baby-sitter Florence Andrews and ran away, leaving Audrey in shock.
Tom Baldwin's handsome, fortyish attorney brother, Lee Baldwin, had once fallen in love with Jessie Brewer, but after losing her to Phil he married Meg Bentley, a nurse with a young son and a problem stepdaughter, Brooke Clinton. After her mastectomy, Meg had a mental breakdown and was committed to a sanitarium. Later, she was cured but developed high blood pressure, for which beautiful and independently single Dr. Lesley Williams began treating her. Meg finally died, leaving Lee a widower with a stepson to care for, Scotty Baldwin.
Again, Jessie and Phil Brewer's reunion for the umpteenth time turned into utter disaster, especially when Phil found out that Diana Maynard, with whom he had been living before coming back to Jessie, had married Dr. Peter Taylor in order to give her unborn son (Phil's) a name. However, after Phil's breakup with Jessie, Diana informed Phil that she was now in love with Dr. Taylor. Diana gave birth to Phil's child while still married to Peter, who knew that it wasn't his. But Phil, who previously thought he was permanently impotent, forced himself on Diana in her apartment and raped her, which caused another pregnancy. Diana became frantic with worry that her husband, Peter, would discover that this child, too, wasn't his.
Jessie, meanwhile, found herself another young "Phil" by the name of Teddy Holmes. Teddy, a recklessly handsome newspaperman and an adventurer in the worst sense of the word, first came to General Hospital as a hepatitis patient. He immediately saw a way to exploit Jessie and her money, to give him the independence he needed to get to the top of the literary world. Lonely and vulnerable, unsuspecting Jessie invited Teddy to stay at her home during his recovery.
With the death of Jessie's widowed brother, she became the guardian of his two children, Carol Murray and Kent Murray. Teddy, learning that Jessie's niece, Carol, was to come into a large inheritance on her eighteenth birthday--and his eyes now burning with dollar bills--told Carol he was in love with her and not Jessie, and Carol took the bait. When they ran away together Jessie was in shock, especially since she had co-signed a $25,000 loan for Teddy, supposedly for an investment in a motorcycle shop, and was stuck for the money. She turned to Lee Baldwin for help in paying off the burdensome loan.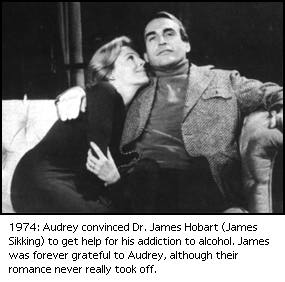 Audrey Baldwin was dangling by a string waiting for her husband to bring back their son, Tommy, whom he kidnapped just before the boy was to have vital heart surgery by Dr. James Hobart. While Audrey worried for her son's safety, Dr. Hobart, obviously attracted to her, relieved her anxiety somewhat by his attention. Later the boy was found. Audrey was told that Tom Baldwin had been killed in Mexico.
Diana Taylor soon gave birth to Martha, who was really Phil's child. With Phil trying to coerce Diana into leaving her husband for him, Peter inevitably discovered the child's parentage. He refused to have further relations with Diana whom he felt he could no longer trust. Even after Phil realized that his pursuit of Diana was hopeless and once again left General Hospital, Peter was not appeased. Depressed over his prolonged rejection of her, Diana reluctantly sued for divorce. Ironically, Peter admitted to friends that he was still in love with his wife.
At first it was Audrey Baldwin who needed comforting; later, it was Audrey's suitor, Dr. James Hobart, who needed support. An automobile accident caused by his alcoholism left his hands damaged, and the possibility existed that he would never be able to operate again. Jim's drinking worsened. To rescue him, Audrey became his wife--more out of pity than love. After they married, Audrey was uneasy about their lovemaking. The marriage seemed destined for trouble.
Another unhappy spouse was Dr. Henry Pinkham whose wife, nurse Sharon Pinkham, had left him for another man. In his loneliness, Henry turned to the newly divorced Jane Dawson and they fell in love.
While mutual hurt pride continued to keep Diana and Peter apart, each was pursued by an attractive new member of the seventh-floor staff: Dr. Joel Stratton and nurse Augusta McLeod. Ravishing Augusta, never popular with her fellow nurses because she flaunted her sexiness, seduced Peter into an affair. Diana was just about to divorce him when she suddenly saw how close he and her little daughter, Martha, were becoming; there was a brief reconciliation. then Dr. Joel Stratton begged Diana, because she was a nurse, to care for his brother Owen Stratton, stricken with a terminal heart ailment. Misunderstanding Diana's relationship with her new private patient, Peter once again left his wife and resumed his affair with eager Augusta McLeod. Owen fell in love with compassionate Diana. She knew he had only a few more weeks of life left, and, determined to make him happy by marrying him, she reinstituted divorce proceedings against Peter. But Owen suddenly died. Peter, finally learning the truth, rushed back into Diana's arms.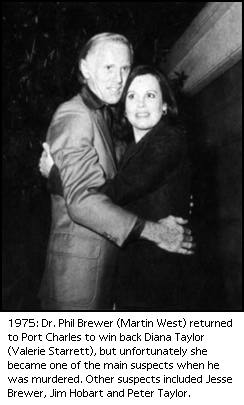 Phil once again showed up at General Hospital, seeking to win former lover Diana Taylor back. Augusta had written to Phil in Nairobi informing him that she was carrying Peter's baby, but begged Phil not to tell Peter because of her pride. Caring only for himself, Phil went to Peter and told him that he was soon to be a new father, casting a new cloud over the Taylors' marriage. One night, nurse Jane Dawson found Jessie Brewer hugging Phil's limp body. "I'm sorry," Jessie kept saying over and over. Phil had been murdered!
At least five people had reason to want to see him dead. It was Jessie who was finally charged with Murder One--although the blunt instrument that had cracked Phil's skull was never found. Before Phil's death Jessie had come down with San Joaquin Valley Fever, but had courageously refused to leave her nursing chores to recuperate. Jessie now had to face two perilous crises.
Dr. Lesley Williams was relieved when her old flame Gordon Gray reassured his wife, Florence, that he no longer loved her. Lesley soon fell in love with Dr. Joel Stratton who mysteriously refused to marry her although he loved her. Joel had a hereditary heart condition (the same one that took his brother's life) which made it impossible for him ever to consider marriage. Lesley, heartbroken, ended her relationship with Joel.
Wealthy Cameron Faulkner became Lesley's patient and fell in love with her. Joel, who was still in love with Lesley, was hurt but put his feelings aside by operating on Cam after a crazed patient of Lesley's shot him. Grateful, Cameron financed a new free clinic that Lesley had proposed, and soon Lesley and Cam were wed. Joel hung around long enough to help Lesley start her humanitarian free clinic but couldn't bear to see her with Cam so he went to Boston to practice.
Just before Jessie Brewer was to be tried for the murder of Phil Brewer, Diana Taylor suddenly confessed that she was the murderess! To make sure that she was believed, she turned over a blood stained geode, the murder weapon, to the police. She was tried, convicted, and sentenced. Frantic Peter Taylor was convinced that Diana had confessed only to protect him, and he pleaded with her to believe that he wasn't the killer. Peter and lawyer Lee Baldwin went over and over the details of the night of the killing. Dr. Jim Hobart had already told the police that he had been with Phil that fateful night, but he had been too drunk to remember who else he had seen or what had happened. Finally Jim remembered he had seen Augusta with Phil that night. Badgered by Peter, Augusta confessed to killing Phil! It had been in self-defense. He had been striking her during an argument, and, terror-stricken that he would harm the baby she was carrying, she struck him on the head so hard that he died. Augusta went to prison, had her baby, which was placed in a foster home, and upon her release, left town. Peter told Diana that the baby was his, and she forgave him.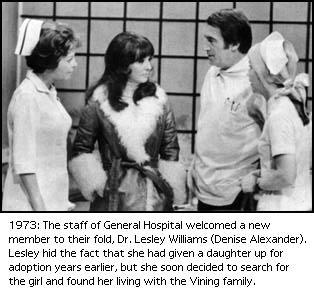 Lesley Williams' marriage to Cameron Faulkner, on the other hand, was in deep trouble. The difficulty stemmed from Lesley's sudden discovery that the illegitimate daughter by Gordon Gray who she had thought died at childbirth was still alive. A dying patient at General Hospital, nurse Doris Roach had revealed to Lesley the whole incredible tale. Years before, just after Lesley gave birth to her illegitimate baby, Lesley's father had plotted with nurse Roach to switch Lesley's healthy baby for the dead baby of a couple called the Vinings--making Lesley believe that her baby was dead. Obsessed with finding her daughter, Lesley located the Vinings after an investigation.
Barbara and Jason Vining were shocked when they were told that young Laura was really Lesley Williams' daughter. Lesley launched a custody suit, and the judge, realizing that all parties had been wronged, put off making a decision until Laura got to know her real mother and could voice her own feelings. Laura was to live with Lesley and her husband, Cameron, for a one- month trial period. Of course, Laura was terribly fascinated with the Faulkner's glamorous way of life--plane trips to exciting places, luxurious restaurants--but during an illness Laura called out for her "real" mother, Barbara Vining. Cameron and Lesley now knew the truth about Laura's feelings, but Lesley pleaded with him not to tell the judge. It was obvious to Cam that his marriage to Lesley, which never really got off the ground, would soon fail--unless he took drastic steps, however dishonest.
Jim and Audrey Hobart's marriage was also coming apart. Jim was growing weary of Audrey's mothering. After Jim lost his job at the hospital, he began seeing psychiatrist Peter Taylor, who helped Jim decide to stop drinking once and for all. A new man, Jim became a success as a college professor, had a affair with one of his students, glamorous Sally Grimes and then left Audrey, claiming that she was "old and burned out." He then promptly left town. Distressed, Audrey tried to kill herself with an overdose, but Dr. Steve Hardy helped restore her self confidence. After taking his new post as hospital chief of staff, Steve made Audrey the superintendent of student nurses.
Nurse Jane Dawson became grief stricken when her daughter Joann took sick and died. Jane couldn't bear General Hospital with all of its painful memories of a failed marriage and a dead daughter, and left town in a state of heartbreak. Henry Pinkham, in love with her, went with Jane.
New arrivals in town (now called Port Charles) were Carolyn Chandler and her son, Bobby Chandler. Widower Lee Baldwin fell in love with Carolyn and married her. Her son, Bobby, married nurse Samantha Livingstone, then found out that he was dying of Melenkoff's disease, for which there was no cure. Bobby's main concern was that Samantha, who had just become pregnant, would have to raise their child alone after his certain death. Then Steve Hardy heard from a New York City hospital, which had been conducting further tests, that Bobby, in reality, had something called Farrier's syndrome, which could be cured, providing Bobby came to New York for treatment. Lee Baldwin, Carolyn, Bobby and Samantha all happily left for new York for Bobby's cure--without announcing any intention of returning to General Hospital.
The Webbers then came to General Hospital. Steve's old colleague, Dr. Lars Webber, and his wife had been killed in an auto accident many years ago. Their oldest child, Terri, gave up her plans for a singing career in order to care for her two younger brothers, Rick and Jeff. Terri had married a General Hospital psychiatrist, Dr. David Arnett, who died. Rick, a promising young surgeon, had been engaged to an insecure, but beautiful intern named Monica Bard, who had grown up in a foundling home. Rick had gone to Africa and was later presumed killed. The day that the Webbers found out about Rick's supposed death, Monica received a letter from Rick breaking off their relationship. On the rebound, Monica married Rick's younger brother, Jeff, also an intern. Monica never told Jeff that Rick had broken up with her.
All this occurred before the Webbers were first seen at General Hospital. As their story began, Terry had just opened up a new nightclub, called Terri's Place, and invited her lifelong friends at General Hospital to attend the opening. Cam Faulkner had financed the restaurant and for that Terri vowed her eternal gratitude to Cam. Jeff and Monica, Steve's experimental "Mr. and Mrs. Intern" team at the hospital were facing serious problems. Jeff doubted his ability to get out of his older brother's shadow, and even had a nightmare in which everyone at the hospital was calling him "Rick". Then just as Jeff was gaining self confidence, Rick turned up alive! Monica was still in love with Rick and began an extramarital affair with him, hurting Jeff so terribly that he began to take amphetamines to gain confidence. After Jeff, under the influence of pills, shot himself, Rick broke off with Monica-- since he saw her as the destructive and vicious schemer she was. Still Monica continued to lie to Jeff and Rick to win Jeff back.
Meanwhile, a dangerously neurotic young girl, working as a domestic for Peter and Diana named Heather Grant, fell in love with Jeff and seduced him. After Jeff's recovery, Heather told him that she was carrying his child, but Jeff refused to consider divorcing Monica, with whom he was still passionately in love.
Desperate to be free of her situation, Heather at first tried to sell her baby, Steven Lars, to Peter and Diana Taylor. When that failed, she headed for New York with her baby, with dreams of becoming a model. When Jeff sued for custody of little Steven Lars, Heather, in need of money, again tried to sell her baby to Diana and Peter this time, anonymously. The Taylors had no idea that their newly adopted little son, whom they called P.J., was really Heather and Jeff's little boy. Heather told the unforgivable lie to Jeff that his son had died! Newly drawn to Heather over the presumed loss of their son, Jeff, after divorcing Monica, asked Heather to come back to Port Charles with him as his wife.
Shortly after Cam died, Lesley discovered she was pregnant with his baby. In her hour of distress, Rick comforted her and the two fell in love. Monica had always loved Rick Webber and schemed to break up the relationship. However, after she became the cause of Lesley's tragic miscarriage, she promised to stop interfering. Rick and Lesley were finally wed and settled down with her daughter Laura.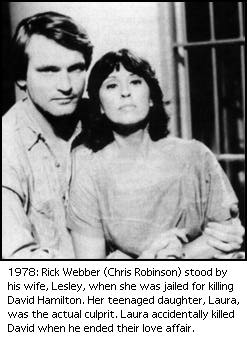 David Hamilton, an old buddy of Rick's, moved in with Rick, Lesley and Laura. Secretly he hated Rick because David's late wife had loved him. He made advances to Lesley. When she rejected him, he turned to Laura. The teenager was enchanted by the older, worldly man and she let herself become entangled in a torrid love affair. When Rick found out about it, he ordered David to leave town. Laura, who had given her body to David, begged him to take her with him. Then she overheard him tell Lesley that he had only made love to Laura to make Lesley jealous. Laura was stunned. Confronting David, she threw a statue at him, causing him to hit his head on the hearth. A horrified Laura fled the apartment. Minutes later Lesley found David on the floor dead! To save her daughter from jail, Lesley confessed to the murder and was indicted. Laura was so distressed that she blocked the whole death scene from her mind and later ran away to New York without testifying at her mother's trial. Lesley was sent to prison.
Young Scotty Baldwin had been in love with Laura before her affair began with David and now, frantic with concern for her whereabouts, Scotty and his friend, Bryan Phillips, went to New York to look for her. They found Laura involved in a drug and prostitution ring. Posing as street hustlers, Scotty and Bryan rescued her and brought her back to Port Charles, where she finally confessed to killing David. Lesley was freed.
The whole Webber family suffered unendingly. Unable to rid herself of her guilt over lying to her husband for so many months about David's true killer, Lesley could not have sexual relations with Rick. And Laura, who was sentenced to six months probation under her mother's watchful eye, felt like a prisoner in her own home. Her only source of comfort was Scotty, who was still in love with her even though he had been having an affair on the rebound with a vivacious but gold-digging student nurse named Bobbie Spencer. To take up with Laura again, Scotty ended his affair with scheming Bobbie, only to be told that she was pregnant by him. That turned out to be a lie.
Bobbie was determined to make Scotty marry her and she enlisted the aid of her brother, Luke, a brash and streetwise young man with underworld connections, but who was devoted to his family. In one vicious scheme after another, Luke helped his sister Bobbie in causing a rift between Scotty and Laura. Before long, however, Luke began to take an interest in Laura himself.
Monica had already married insecure and jealous Dr. Alan Quartermaine, the son of wealthy Edward and Lila. Sensing that his wife Monica had been unfaithful with Rick whom she had always loved, Alan undermined Rick's career at the hospital at every turn.
Meanwhile, Rick Webber, still frustrated by Lesley's frigidity, returned Monica's interest and they had an affair. But, just as he was about to leave Lesley for Monica, Rick learned that Lesley's daughter, Laura, had been in a serious car accident. Rick and Lesley grew close again and stayed together, while a frustrated Monica was forced to return to the sham of her marriage with Alan.
Monica soon learned that she was pregnant with Rick's baby, she believed. One day, while Monica and Lesley were trapped by a blizzard, Monica deliriously shouted that the baby was Rick's. A shattered Lesley told Rick that she planned to divorce him. Rick now wanted to marry Monica and start a family with her and their baby. But Alan swore that if Monica ever tried to divorce him and embarrass him in the eyes of the world, he would use the Quartermaine fortune to take her child away from her.
Alan's spoiled and money-hungry sister, Tracy, had wanted nothing better than for her brother and Monica to break up, for she wanted the Quartermaine fortune to go to her own son Ned, not Alan and Monica's baby. Now Tracy began to prove that Monica's newborn baby, Alan Jr., was really fathered by Rick. As brother and sister battled each other, their mother Lila discovered an interesting fact--Alan Jr.'s birthmark looked exactly like Alan's. Monica was stunned! Further medical tests proved that Alan was really the father. At first Monica tried to keep the truth a secret from Alan and Rick, but the truth came out and Rick, realizing that Monica was a heartless manipulator, went back to Lesley. Again, Monica had to face boredom with Alan. Alan tried over and over again to get back into Monica's bedroom, forcing himself on her, but Monica continued to lock her bedroom door to avoid Alan from making a move on her. One night, Alan and Monica were sitting in the living room and Alan begged her to go to bed with him, shaking her and telling her he needed her so desperately. Monica, feeling numb, could not respond to Alan as he passionately tried to kiss her. Feeling numb, Monica explained that she couldn't possibly respond to any man at this point in her life, and Alan asked, "Does that include Rick Webber?". Monica doesn't answer and apologizes after walking out of the room. Alan then mutters, "not as sorry as I am", and storms out heading to the Campus Disco, where he meets with Susan Moore, owner of the Campus Disco.
Heather schemed to get her son back from the Taylors by driving Diana insane! Without realizing the danger, Diana had named Heather and Jeff baby P.J.'s legal guardians should anything happen to Diana and Peter. Heather began by making anonymous threatening phone calls to poor Diana. Peter hired private detective Joe Kelly to discover the caller's identity. At the same time, Steve also hired Joe to locate Steven Lars (P.J.) who was, after all, his grandson. Still trying to drive Diana crazy, Heather spiked her drink with LSD, but accidentally ingested the drug herself. Heather went insane! Unable to bear Heather's cruel deceit any longer, her mother, Alice Grant, told Peter that his son was none other than Steven Lars. The shock was too much for Peter, who suffered a heart attack and died. Dreadful Heather, now institutionalized, was responsible for the tragedy.
The widowed Diana became frantic that she would lose P.J. to his real father, Jeff Webber, so she began a campaign to try to marry him. Meanwhile, Heather, coming out of her LSD-induced psychosis, became suspicious that her husband was involved with another woman and fled the asylum. She spotted Jeff kissing nurse Anne Logan, Audrey Hardy's pretty young niece, and swore to get even.
Diana Taylor was found murdered! On the floor beside her, written in her own blood, was scrawled the name "Anne." Jeff believed that unstable Heather had committed the heinous crime, intent on framing Anne. At first Jeff refused to let Heather near their son, and then finally he divorced Heather and left Port Charles with Steven Lars.
Heather was being investigated by detective Joe Kelly, who found strong evidence connecting her to Diana's murder. Finally Heather admitted to killing Diana, but she couldn't remember actually pulling the trigger of her gun. Joe Kelly, who was falling in love with Heather, now believed her innocent and eventually discovered that Heather's mother, Alice Grant, had killed Diana. It turned out that Alice had followed Heather to Diana's that awful night, saw Heather point the gun at Diana, then saw Diana pull out her own gun. Fearful that her daughter would be killed, Alice shot Diana. The judge sentenced Heather to six months's probation for attempted murder and, citing extenuating circumstances, set Alice free.
Teenagers Laura Vining and Scotty Baldwin were wed, but Laura soon realized that she had made a mistake. She was really attracted to the far more interesting Luke Spencer, his unconventional life-style and off-beat friends. Luke, too, was drawn to Laura for her wholesomeness and innocence. Taking a job at the Campus Disco, which Luke managed for the mob, Laura had at first become wonderful friends with Luke. But soon their story took a dramatic turn when the mob elected Luke to perform a hit job on Tracy Quartermaine's new husband, Mitch Williams, the corrupt assistant D.A. who was now running for Senator and campaigning to crack down on organized crime. Luke surmised that he was soon about to die himself. If he didn't assassinate Mitch Williams the mob would kill Luke, and if he did kill Mitch, he would hang for it. Tormented by his fate, Luke confessed to Laura the secret of his love for her and began kissing her passionately, tearing at her clothes, until she resisted. Then, on the floor of the disco, he raped her.