NEWSROOM
COMMUNITIES
FUN & GAMES
LIBRARY
SITE INFO
OFFSITE LINKS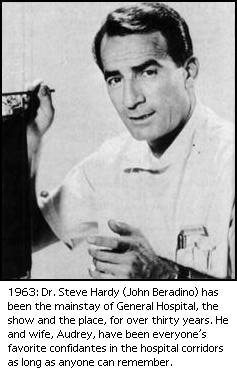 When General Hospital began, it revolved mainly around the constant crises of Nurse Jessie Brewer and her unfaithful young husband Dr. Phil Brewer. Also included in the story were Dr. Steve Hardy and his romantic problems with ex-stewardess Audrey March. Other core characters in the early years included Dr. Tom Baldwin, his lawyer brother Lee, Lee's wife Meg, and her son Scotty.
Jessie Brewer, R.N., everybody's friend and confidante, had met and married Phil Brewer, a handsome young intern seven years younger than she, and sacrificed to help him become a practicing cardiologist. Phil returned Jessie's love, but, having a willful, less-than-noble character, he also sought the excitement of an illicit romance. When Jessie found out, she sued for divorce. While she awaited the final papers, Phil, drunk and frustrated, assaulted her one night, and she became pregnant. Their child was born with a serious heart ailment, and cardiologist Phil Brewer was helpless to prevent his own baby's death. The tragedy ended when Phil and Jessie were finally divorced.
Trouble didn't stop there for the two of them. Feeling pity for the dying Dr. John Prentice, Jessie married him. But when he finally died of an overdose of drugs by his own hand, Jessie had to stand trial for his murder. Phil and Jessie were reunited during that terrible episode, ending with her acquittal and their remarriage. But the reunion was short-lived. Phil was now himself accused of murdering John's daughter Polly Prentice, with whom he had had an affair. He ran away and was later reported killed in a plane crash.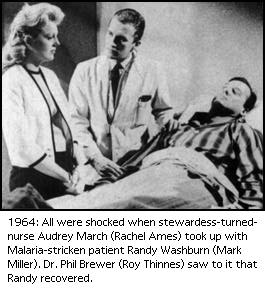 Jessie's closest friend and ally in the daily encounters with death, despair, and hope at the hospital was, and has always been, Dr. Steve Hardy. Reserved and wise, Steve, the son of a missionary family and born and raised in China, was devoted to his work at the hospital. But he also needed love. That need was fulfilled, for a while, in his marriage to one time swinging airline stewardess Audrey March, sister of Lucille March, the good-hearted senior nurse. Audrey had gotten tired of all the men and all the parties and had wanted children with Steve. When she failed to become pregnant, Audrey mistakenly believed Steve to be sterile and became pregnant through artificial insemination. But the unborn child died in an auto accident when Steve was at the wheel, and their marriage subsequently ended in divorce. Audrey, ever obsessed with motherhood, went to Vietnam to care for orphans.
With Phil out of the picture, Jessie found temporary happiness in a marriage to psychiatrist Dr. Peter Taylor, a quiet and undemanding type, about as different from Phil Brewer as imaginable. But, unwittingly, Jessie was committing bigamy, for Phil was still alive. To be near Jessie, whom he still loved, Phil assumed a new identity--"Harold Williamson", and began working as a dishwasher in a restaurant near General Hospital. Afraid to tell Jessie he was still alive, Phil--as Harold--soon was diverted by an involvement with beautiful Diana Maynard, who worked at the restaurant as a waitress. However, Jessie and Phil finally confronted each other when he was brought into the hospital after an auto accident. Jessie was forced to annul her marriage to Dr. Peter Taylor and try to find happiness again with Phil. Diana Maynard faded into the background.
Nurse Jane Harland and Howie Dawson embarked on a problematic marriage. Howie, not wanting the responsibility of children, had had a vasectomy without Jane's consent. After many arguments over Jane's insistence that they adopt a child, Howie moved into a hotel. Later after being promoted to assistant to the administrator of General Hospital, Howie asked to come home again. Jane took him back, despite her suspicions that he came back to her only because his new job necessitated the appearance of marital stability. The vasectomy, however, was constantly on Jane's mind and caused sexual difficulties between her and Howie. After he began having affairs with other women, Jane divorced him. Howie went to New York City to accept a job.
Meanwhile, Audrey March returned from Vietnam to become a nurse at General Hospital and married Dr. Tom Baldwin, whom she married just to prove to herself that she didn't love Steve. Audrey realized she didn't love Tom, a self-destructive loser type, and wouldn't have sexual relations with him, but he forced himself on her anyway, and she became pregnant. When Audrey realized that she still loved Steve Hardy, she sued Tom Baldwin for a divorce and left town to have her child.